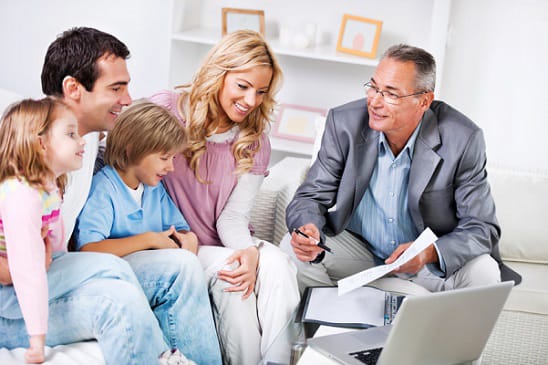 The amount of life insurance coverage you need will change throughout your life. For instance, if you are just starting out in life, you can probably rely on group life insurance policies through work to give you basic life insurance coverage. While this is the most basic form of life insurance protection, for many single individuals, it's enough to cover funeral expenses and a few outstanding bills.
However, the majority of us find our financial responsibilities multiplying as we age; children, spouses, mortgage, college funds, aging parents, the list goes on and on. Once that happens, you will likely discover that your employer provided life insurance is not enough to protect your family's financial future.
The drawback to employer sponsored life insurance plans include:
Limited Coverage – Most basic employer life insurance policies are offered at low or no cost, but coverage is limited to one or two times your annual salary, with limited spousal coverage options. Even if you are able to buy additional coverage through your employer's plan, the maximum amount is generally lower than the amount recommended for families.
No Cash Value – With an employer sponsored term life policy, the policy only pays out in the event of your death, regardless of how much you've paid in premiums over the years. Permanent life insurance allows policyholders to build tax-free cash value with their premiums. Many people use a whole life or universal life insurance policy to build a nest egg that they can rely on later in life.
Not Portable – In most cases, you cannot take your life insurance coverage with you when you change or lose your job, leaving you at risk for coverage gaps, additional medical underwriting requirements and increased premiums.
Premiums Increases – Even if you don't change jobs, premiums for employer provided life insurance policies are likely to go up as you age. While the average premium for a young person may be very reasonable, it tends to increase dramatically as you age. In addition, your employer can change carriers and coverage levels, or even discontinue the benefit entirely, at any time. Be sure to shop around if you face steep premium increases through your employer sponsored life insurance plan. You may be able to get a better deal elsewhere.
Considered a Taxable Fringe Benefit – According to the IRS, the imputed cost of coverage over $50,000 must be included in income and is subject to social security and Medicare taxes.
Most of us understand that life insurance is a good idea but we fear that coverage will be too expensive, we don't understand the kinds of life insurance policies available, or we just do not know how much life insurance we need. There are several different types of life insurance products available to consumers at a variety of price levels. For more information, check out our blog post
Understanding Life Insurance
to learn about the different types of policies available.
Life insurance and financial planning can be complicated. It's important to consider your overall financial picture and your long-term goals. If you'd like help with life insurance, one of our
insurance agents
would be happy to go over your coverage options and help you determine how much coverage you need. Please
contact us
today. We look forward to helping you and your family!
LSB Insurance, a Lincoln Savings Bank Company
Not FDIC Insured | May Lose Value | No Bank Guarantee