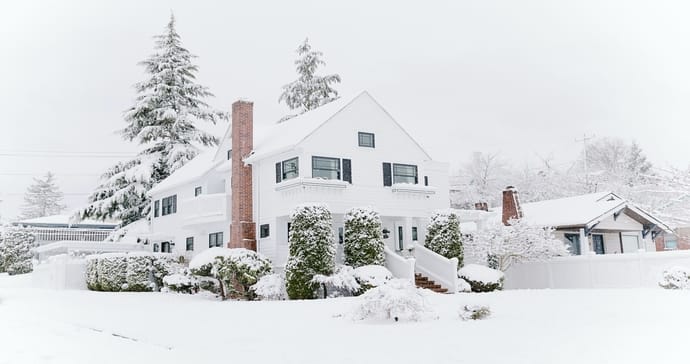 Winter is coming—are you ready? As the leaves (and temperatures) fall, it's a great time to take stock of how prepared your home is for winter weather. Taking some small steps to get your home ready for the winter can save you time, money, and headaches as the weather grows colder.
Keep It Cozy
As temperatures drop, it's an ideal time to do some routine yearly maintenance tasks and take steps to ensure your home stays warm and cozy during the winter months.
Insulate! One of the first things you should do as the cold season approaches is to examine how well your home is insulated. Improving your insulation is a cost-effective way to keep you warm and comfortable and keep your heating bills under control. Adding additional insulation to your attic or under your roof can also help prevent ice dams and other hazards that accompany winter storms. Installing weatherstripping, applying climate control window film, and caulking gaps around doors and windows can prevent drafts and cold spots, keeping your home more comfortable and temperate. Adding insulation around pipes in attics, crawl spaces, basements, and other unheated spaces can help protect them from freezing. An energy home audit can help you understand what kind of insulation you already have and how adding more could benefit your needs.
Update! If you've been thinking about updating your home with energy-efficient appliances or upgrading your windows or roof, now is the time! Investigate whether you might qualify for state or local programs incentivizing energy-efficient home upgrades, and talk to your homeowners' insurance carrier to see if they offer any discounts or rebates. If your furnace is more than fifteen years old, it may be time to look for a replacement; older furnaces are less functional and far less efficient than newer models. The U.S. Department of Energy has developed a calculator to help you understand and compare the cost benefits of various energy-saving home upgrades.
Even if you don't invest in major updates, consider converting to a smart thermostat like the Nest system. These devices are relatively inexpensive and easy to install. These products provide analysis of your energy use patterns and needs, allowing you to create a customized plan for to keep your home warm and comfortable as efficiently (and economically) as possible.
Ventilate! Good airflow in your home helps you feel your best in all seasons. Schedule a furnace inspection and change the filter to get ready for winter. Check your HVAC system and repair any leaky ducts. Invest in a humidifier if your house tends to get unpleasantly dry during the winter months. Switch the direction of your ceiling fans to clockwise, and keep them running at the lowest speed. The fan will pull cool air upwards, pushing the warm air that rises and collects near the ceiling back down into your living space.
Protect Your Home
There are a few simple steps you can take to avoid costly damage caused by winter weather. Frozen pipes are one of the most common homeowners' insurance claims during the colder months. As water freezes it expands, which can increase the pressure in your home's plumbing system; too much pressure can cause pipes to burst or crack. Uninsulated pipes installed in an unheated area like an attic or crawl space are at risk of freezing if the outside temperature drops below 20° F. If you can't insulate pipes or expose them to warm air (by opening cabinet doors or heating the surrounding areas), keep a slight trickle of water running to prevent them from freezing in very cold temperatures. Both hot and cold water lines are at risk, so make sure water is running in both.
Chimney fires can cause significant damage to your home and personal property. Even worse, damaged or unsafe chimney structures can be dangerous to you and your family, allowing dangerous levels of carbon monoxide to seep into your home. If you're planning to use a fireplace this winter, have it properly inspected and cleaned by a licensed, certified chimney inspector. Regular cleaning and maintenance ensures you will be comfortable and safe while enjoying a crackling holiday fire. An inspection can also help make sure that your damper closes securely when your fireplace isn't in use (so you're not losing heat up the chimney). Fall is also the perfect time to check your smoke and carbon monoxide detectors and replace their batteries.
Late fall is the best time to clean your gutters, too. Make sure they are clear of leaves, asphalt runoff, and other debris. Keeping them clean helps maintain good drainage away from your home, lowering your risk of water infiltration. It also helps prevent ice damming (the buildup of ice that forms around the perimeter of your roof), which can cause serious damage to your gutters and roof and create a falling-ice hazard.
In Case of Emergency
Extreme cold, winter storms, and other inclement weather events can wreak havoc on your home and personal property. Even with the best preventative maintenance, powerful storms or unforeseen events can take their toll. Ice storms, hail, high winds, and snowstorms can cause costly, inconvenient damage.
Before severe weather settles in, contact your homeowners insurance carrier to discuss your coverage options. Knowing what you are covered for—and for how much—can help you make the best choices about whether to repair, replace, or remodel things on your property before storms roll in. Find out how much your deductible is, what your coverage levels are, and if there are any exclusions.
As an added bonus, reaching out to your insurance company now means that you'll know who to call in case a winter emergency causes damage to your home or property, which could save you valuable time and reduce your stress. You may even be able to save money on your premiums by improving your home's energy efficiency or safety or be eligible for tax credits or incentive programs. Keep your family safe, comfortable, and warm this winter season by being prepared and being protected.
To learn more about preparing your home for winter, subscribe to our blog today.
Not FDIC Insured | No Bank Guarantee | May Lose Value | Not a Deposit | Not Insured by any Federal Government Agency