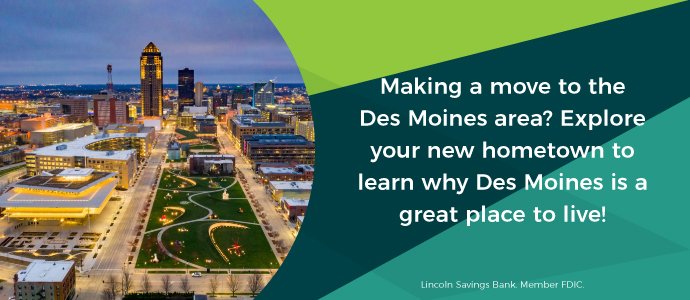 There are so many good reasons to live in the Greater Des Moines metro area, (just check out the
numerous complimentary rankings
Des Moines has received from national publications!) It is also known as a family-friendly place with tons of parks, entertainment and community events. And if you need to go somewhere else (not that you'd want to), the Des Moines International Airport is right there.
So, if you've already decided to move to Des Moines or are still researching your decision, this relocation guide will cover the basics and perks of living in Des Moines and surrounding communities like West Des Moines, the East Village neighborhood in Des Moines, Ankeny, Clive, Urbandale, Altoona, Johnston and Waukee. And, if you happen to be looking for a new bank or a mortgage loan to buy a home in Des Moines, we hope you'll
check us out
to see what makes Lincoln Savings Bank better.
Cost of Living
Des Moines has the combined strength of a growing economy, with unemployment lower than the national average, and a lower-than-average cost of living,
according to BestPlaces.net
. The median home price is $140,800, putting the dream of home ownership comfortably within reach of Des Moines families. No wonder the metro area ranked third on The Ascent's list of
best cities for high salaries and low cost of living
.
Of course, cost of living isn't the only feature that contributes to a positive quality of life. The Greater Des Moines area also offers convenient transportation options and short commute times.
Des Moines is located at the crossroads of I-35 and I-80, major interstates that span coasts and borders.
Downtown Des Moines can be traversed on foot and, in the winter, by four miles of connecting skywalks.
There are many bicycle trails in and around Des Moines. The city also has a public bike share program called BCycle.
Enjoy regional bus service from the Des Moines Regional Transit Authority (DART). A free downtown shuttle is also available.
Notable Communities and Neighborhoods
From city to suburbs, small towns to countryside, the Greater Des Moines area has something for everyone. And within your choice of towns and neighborhoods to call home, you can also choose from a variety of housing stock, including apartments vs single family homes and historical vs new. Here are some of the metro area's most notable communities:
Des Moines Neighborhoods
Beaverdale: Largest neighborhood in the city; known for its tree-lined streets and distinctive brick houses.
East Village: Walkable, trendy and full of character, the Historic East Village offers residents the big city feel.
Sherman Hill: Des Moines' oldest residential neighborhood and offers a rich blend of distinct architecture and history.
Market District: One of downtown Des Moines' up-and-coming areas featuring new residential buildings, bars and restaurants.
Des Moines Suburbs
Altoona: Home of Adventureland. Small-town feeling. Great place to raise a family.
Ankeny: Boasts more than 40 parks and playgrounds and one of the fastest growing cities in the country according to the U.S Census Bureau.
Clive: Offers a great trail system for those who enjoy the outdoors.
Grimes: Offers a more rural or country-feeling lifestyle.
Johnston: Offers larger lots and home sizes for the growing family. Miles of trails and other family-friendly amenities.
Pleasant Hill: A young and vibrant community with rapid growth.
Norwalk: A great southern suburb to raise a family.
Urbandale: Named "Best Suburb For Buying Your First Home" by Movoto.
Waukee: One of Iowa's fastest-growing cities. "Best Public School System"
West Des Moines: Find the conveniences of the city and the benefits of a suburb.
Windsor Heights: An easy commute to downtown Des Moines.
Education
The Greater Des Moines area is home to a variety of well-regarded educational options. Here's a breakdown of public school districts, private schools, and universities/colleges.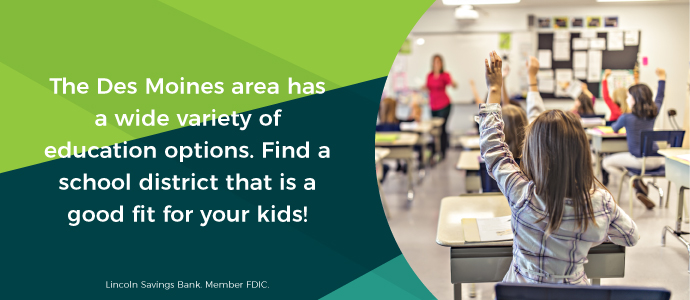 Public School Districts
Adel DeSoto Minburn Community School District
Ankeny Community School District
Bondurant-Farrar Community School District
Carlisle Community School District
Dallas Center-Grimes Community School District
Johnston Community School District
North Polk Community School District
Prairie City-Monroe Community School District
Saydel Community School District
Southeast Polk Community District
Urbandale Community School District
Van Meter Community School District
Waukee Community School District
West Des Moines Community School District
Private Schools
Ankeny Christian Academy
Catholic Tuition Organization - Diocese of Des Moines
Des Moines Christian School
Grand View Christian School
Heart of Iowa STO
Iowa Christian Academy
Iowa Lutheran School Tuition Organization
Legacy of Grace STO
Higher Education Options
Central College
Des Moines Area Community College
Des Moines University - Iowa Health Sciences University
Drake University
Faith Baptist Bible College and Theological Seminary
Grand View University
Grinnell College
Iowa Valley Community College District
Mercy College of Health Sciences
Purdue Global - Des Moines Campus
Simpson College
University of Iowa - Des Moines Programs
Iowa State University
Utilities
Get started on the mundane but essential process of establishing new utility accounts or transferring an existing one to your new address.
Des Moines Water Works
Mid-American Energy Company
CenturyLink
MediaCom
Hospitals
In the Des Moines area, there are a number of trusted healthcare facilities for all of your medical needs. In addition to the hospitals listed below, the region is home to numerous urgent care centers, medical practices, pediatricians, dentists, mental health and addiction facilities and veterinarians.
MercyOne Des Moines Medical Center
UnityPoint Health-Iowa Methodist Medical Center
Blank Children's Hospital
Broadlawns Medical Center
MercyOne West Des Moines Medical Center
Dallas County Hospital
Local Attractions and Things to Do
There is no shortage of fun to be had in the Des Moines metro area. Here are some of our favorite attractions and activities:
The Register's Annual Great Bike Ride Across Iowa (RAGBRAI)
The 80/35 Music Festival
Iowa State Fair
Downtown Des Moines Farmers Market
Living History Farms
Adventureland Park
Sleepy Hollow Sports Park
Prairie Meadows Racetrack and Casino
Des Moines Art Center
Science Center of Iowa
Historical Museum
Capitol Building
Take a daytrip to the Tulip Time Festival in Pella.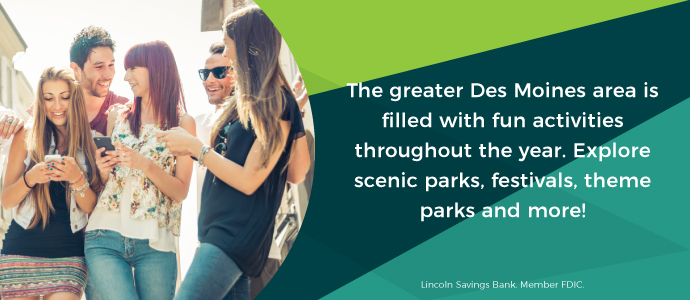 Parks & Recreation
In summer and winter and all year round, Des Moines offers plenty of outdoor recreation activities. Here's where to go to get active outside:
Iowa Parks and Recreation
Iowa Department of Natural Resources
Altoona Parks and Recreation
Ankeny Parks and Recreation
Bondurant Parks and Recreation
Carlisle Parks and Recreation
Clive Parks and Recreation
Des Moines Parks and Recreation
Grimes Parks and Recreation
Grinnell Parks and Recreation
Indianola Parks and Recreation
Johnston Parks and Recreation
Knoxville Parks and Recreation
Newton Parks and Recreation
Norwalk Parks and Recreation
Pella Parks and Recreation
Pleasant Hill Parks and Recreation
Polk City Parks and Recreation
Urbandale Parks and Recreation
Windsor Heights Parks and Recreation
Waukee Parks and Recreation
West Des Moines Parks and Recreation
Winterset Parks and Recreation
Experience better banking at LSB!
New to the Des Moines metro area? Let us be the first to welcome you at one of our
Des Moines area locations
. From checking and savings accounts to home loans, we have everything you're looking for at LSB. Lincoln Savings Bank has been partnering with local families and businesses since 1902.
Contact us today!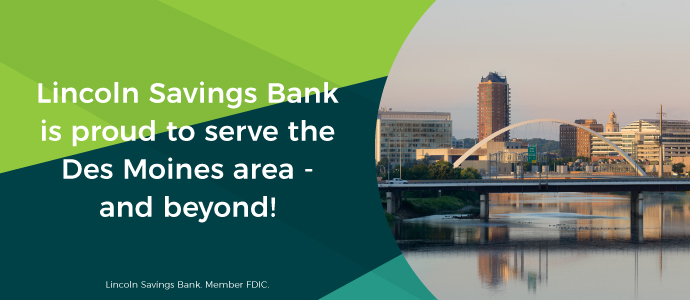 Want the latest and greatest from our blog straight to your inbox?