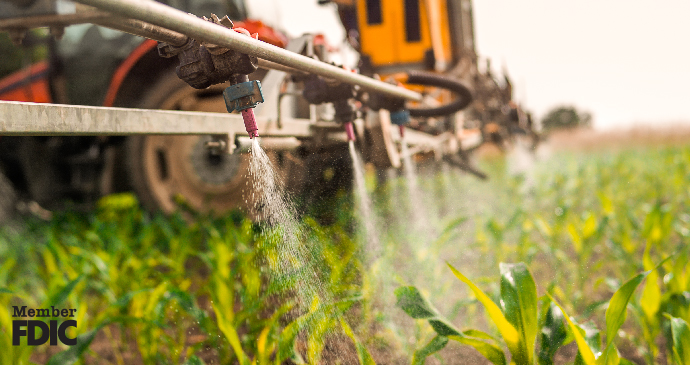 Waterloo, IA –
The Independent Community Bankers of America recently released the results of a
national report
rating the top industry loan producers for 2019. The report segments into sections for Consumer and Mortgage, Commercial, and Agriculture, further narrowing the results by asset sizes of less than $500 million, $500 million to $1 Billion, and over $1 Billion. Lincoln Savings Bank claimed the #20 spot for Agricultural Lenders with assets over $1 Billion. Lincoln Savings Bank is one of fourteen Iowa banks listed in the agriculture category, and one of three Iowa banks listed in agriculture's $1 Billion or more asset category. Lincoln Savings Bank's loan portfolio is currently 16.07 percent agriculture loans.
---
Having begun our history in Lincoln, Iowa, Lincoln Savings Bank (LSB) is rooted in our agriculture lending, constantly looking to assist Iowan farmers who continue to feed this great nation. Dana Uhlenhopp, LSB Executive Vice President and Chief Credit Officer, has been lending in our agricultural department for over 30 years.
"One of my favorite memories being an ag lender is the satisfaction of seeing a young farmer purchase their first farm," Uhlenhopp shared. "Also, being able to make this profession become profitable and support a family in our rural communities. I've been fortunate to have several customers who I've been the lender to for 30+ years. Being loyal to them and having them stay loyal to LSB has been something I've been proud of."
Agriculture lending can be somewhat different from commercial or personal lending. While there are a number of factors, programs, and risks to consider, it's the personal connections that elevate this lending practice to a more profound professional relationship.
"Almost 30 years ago, I worked with a customer who was struggling through tough times," Uhlenhopp elaborated. "This was shortly after the 80's farm crisis. We utilized the FSA guarantee loan program, which basically kept this young producer in farming, while also protecting the bank. A few short years after that, the customer started to turn things around and, to this day, remains a loyal customer to LSB and also has purchased farmland and has very little debt. I firmly believe this producer would have not been able to continue without LSB and the various programs we are able to partner with. I consider this one of my favorite success stories from customers I have worked alongside for these past 32 years."
While the world is changing all around us, the agricultural industry has seen some monumental movements within their markets, operations, and business structures. At Lincoln Savings Bank, it is our goal to help these operations and families continue to produce to the best of their abilities and keep Iowa famers moving forward.
"There have been many changes in technology for our Ag producers," said Uhlenhopp. Equipment continues to evolve and become more sophisticated- there are now updates on cell phones for the ever-changing grain or livestock market prices and auto steer functions in combines and tractors. Very few owner-operator livestock operations continue with their original structure, as most operations now focus on custom or contract feeding of hogs and cattle. The dairy industry has also changed drastically, with a few large dairy barns taking center stage instead of numerous smaller dairy farms, as was common in the past."
With these increasing changes, the agricultural community is in constant flux, often leaving families and operations with questions, concerns, and new financing needs. Our priority at Lincoln Savings Bank is serving our customers. We are dedicated to working alongside these men and women to help them continue farming well into the future.
Uhlenhopp emphasized that "Lincoln Savings Bank values our relationship with agriculture customers and tries to complete farm visits to the majority of our financed operations. This gives our lenders an opportunity to get a better understanding of the producer's operation, see how their facilities look, and discuss the condition of growing crops while viewing the operation's livestock, if applicable. Our customers appreciate this personal touch and I think it helps us build a strong bond with the people we serve. It's also the most enjoyable part of the job as a lender."
At Lincoln Savings Bank, we understand that the agriculture industry is in constant motion, with many changes still on the way. We are committed to continuing our support for Iowa farmers, and working to help agricultural families keep their legacies intact. Having been in business for 117 years, we appreciate the commitment and dedication it takes to run a business for a century or more. If you're looking for a local lender to partner with for your next agricultural purchase or line of credit, Lincoln Savings Bank would love to connect with you.
Visit our agriculture lending
webpage
, or reach out to
Dana
specifically, to start a conversation about your operation's goals today.
Lincoln Savings Bank. Member FDIC.