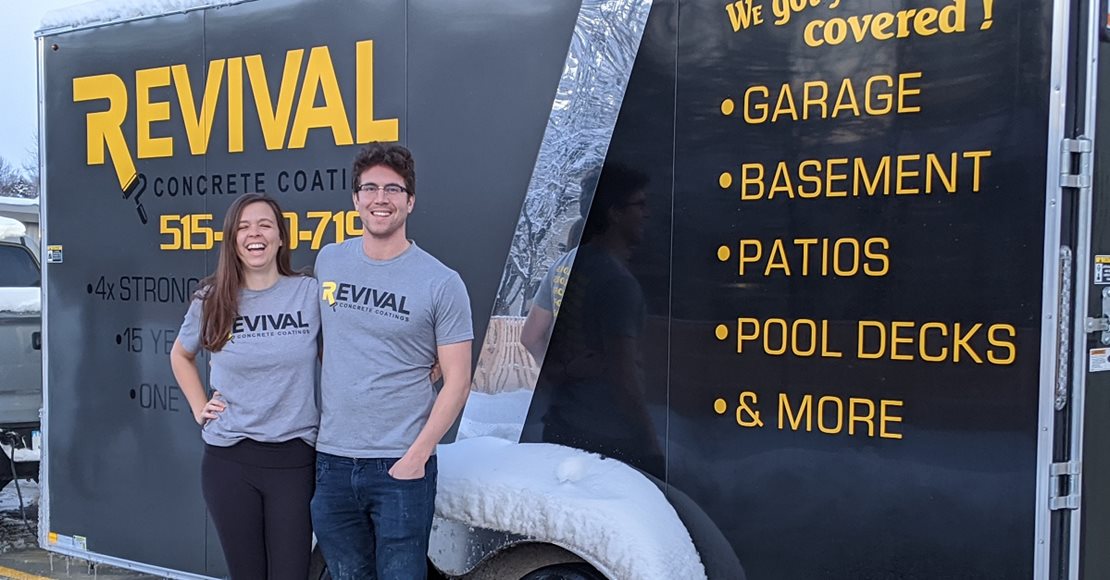 Jack Forsman and Alli Hayes studied entrepreneurship in college, knowing from a young age they eventually wanted to start their own business. After graduating, they aggressively worked on paying down student debt so when a business opportunity presented itself, they'd be financially ready.
The opportunity came disguised in what others might perceive as a setback. During the COVID-19 pandemic, both Jack and Alli found themselves furloughed by their employers. They began to look more seriously at business opportunities, and after much research and talking to people in the industry, determined that concrete coatings were a popular and viable option.
But there were many steps to take before the dream could become reality, and obtaining financing was a critical one. They explored many financing options and interviewed dozens of banks, ranging from the "big four" to local community banks.
Among Numerous Financing Options, SBA Loans Stood Out
As Jack and Alli networked with other business owners, they began to learn more about Small Business Administration (SBA) loans, a type of financing designed especially for small businesses. Not every bank offers SBA loans, but at LSB, they found the mix they were looking for: a service-oriented community bank that was also knowledgeable and experienced in SBA loans.
"LSB stood out with their quick and thorough communication. From the beginning, LSB believed in our business," said Jack. "The SBA loan was the perfect fit for us because the interest rate is reasonable and the payback terms are affordable and give us plenty of time to build up our business."
With help from an SBA 7(a) loan and the small business lending team at LSB, Revival Concrete Coatings was born. Because of the timing of the loan during the COVD-19 pandemic, RCC's loan was eligible for pandemic relief measures that included the SBA making several months of payments and a reduction in loan fees. COVID relief measures are still available for SBA 7 (a) loans disbursed before Sept. 30, 2021.
SBA Loan Provided Financial Stability and Opportunity to Do Good
An important benefit of SBA loans, especially for new businesses, is that the loan can be used for working capital and startup expenses that aren't fully secured with collateral. With their SBA loan, RCC purchased high-quality machinery and the start-up supplies needed to get the business off the ground. It gave them the financial resources to pay fair wages to employees, launch marketing efforts, and rent space to house supplies.
Jack and Alli suggest that anyone with an entrepreneurial dream and business plan look into SBA financing. "There are amounts for almost any need and it can make your dream possible. Without it, it would have taken us many more years to build up the savings needed to launch our business," Alli said.
They are committed to ensuring that RCC is a positive force in the community. RCC partners with and purchases from other local businesses whenever possible to support the Des Moines-area economy.
"It feels absolutely awesome to achieve our dream! We have gotten lots of encouragement and feel that the community appreciates our small businesses," Alli said. "We also get to make our own schedule, employ people, and offer a great product that we believe in. It has given our workday a lot more meaning. There are more challenges, responsibilities, and a bit more risk that comes with owning your own business, but it is definitely worth it in our opinion."
Learn more about obtaining an SBA loan through LSB or reach out to our SBA lending team.
Member FDIC