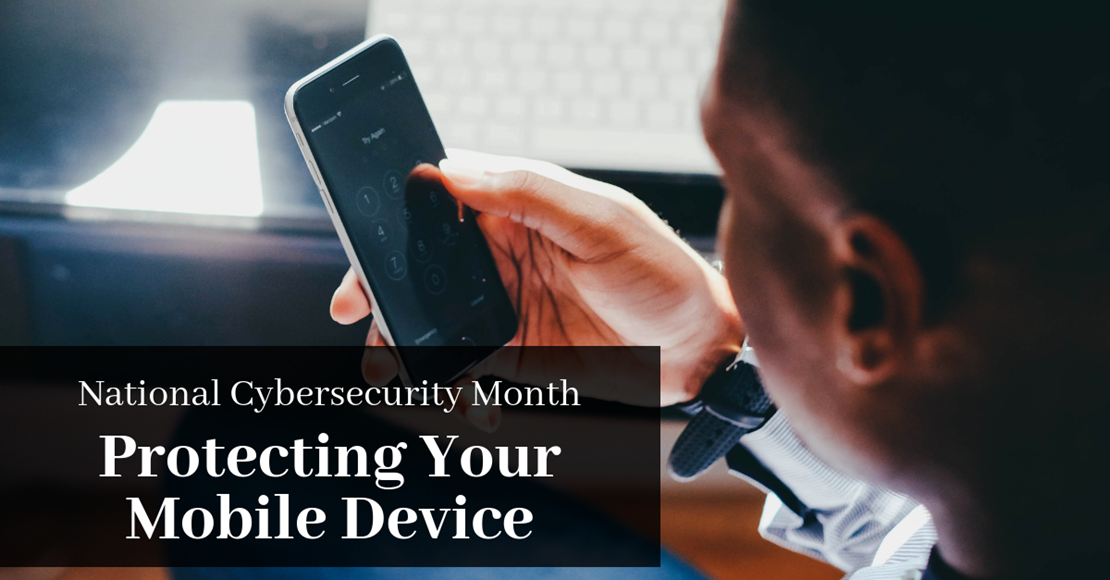 Cybersecurity is something often taken for granted, since it is easy to assume your devices are secure. Your mobile device is loaded with sensitive data, and provides convenient access to your email, bank and social media accounts. Unfortunately, it can potentially provide that convenient access for criminals as well. There is a balance between making the most of your mobile device's capabilities and making your info vulnerable. This Cybersecurity Month, Lincoln Savings Bank wants to help protect your mobile device from cyber-threats, with the following tips to keep your information private.
Use the passcode lock on your smartphone and other devices. Your password, or biometric protection, is the first line of defense if your phone is stolen or lost. So, if you don't have a password, set it up now. Without a password, a thief can access your information quickly and without much effort. Make sure you change your password periodically and keep additional passwords on important apps including your bank or business servicers.
Track your phone so you can find it, or remotely lock and erase it if needed. Most phones offer these features in case your phone falls into the wrong hands. If stolen, you could wipe the phone of all your info, which makes it useless to a thief looking for private information.
Log out completely when you finish a mobile banking session.
Protect your phone from viruses and malicious software, or malware, just like you do for your computer by installing mobile security software.
Keep your phone updated when it is available. But, always make sure it is from your servicer and not from an unknown source. Hackers like to exploit faults in outdated software or apps, but companies have those fixed in their updates, so make sure you're on the latest version.
Downloading the wrong apps. Getting the wrong Apps can contaminate your phone with malicious software, worms, and viruses. Beware of big prize notifications and/or apps that feature simulated ad interactions or display intentionally misleading buttons or layouts. Also watch for apps that ask for unnecessary "permissions."
Avoid storing sensitive information like passwords or a Social Security number on your mobile device. However, if you choose to store passwords on your phone, consider using a "password keeper," which allows you to store sensitive information in a more secured place.
Wipe your mobile device before you donate, sell or trade it using specialized software or using the manufacturer's recommended technique.
Beware of mobile phishing. Avoid opening links and attachments in emails and texts, especially from senders you don't know or weren't expecting. And be wary of notifications (not from your security provider) claiming that your device is infected. Some of these could be phishing scams, so always be sure to check twice.
Watch out for free Wi-Fi. While free networks are great, public connections aren't very secure, so don't perform banking transactions while on them. If you need to access your account, you should disable the Wi-Fi and switch to your mobile network, trust us, the data usage is worth it.
Report any suspected fraud to your bank immediately. Get your bank's mobile app so you can monitor your accounts and transactions easily. There is often a feature that can allow you to freeze your account from your phone in the event your wallet is lost or stolen.
Your phone knows a lot about you, making it very useful, but also very potentially harmful. Monitoring your accounts and keeping things safe are all positive, but you need to take the steps to implement those features. Cybersecurity is easy when you know what the potential threats are and you take the proper precautions.
Lincoln Savings Bank, Member FDIC