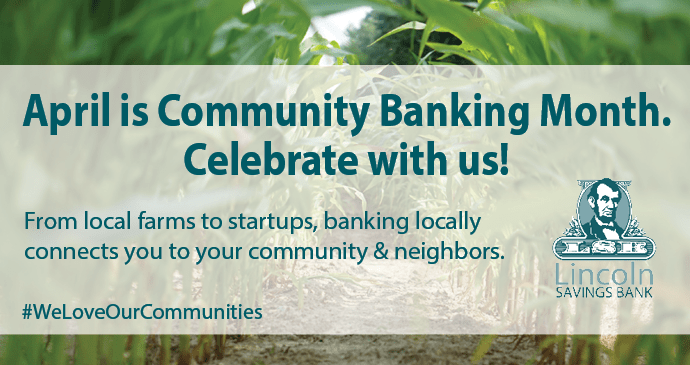 April is Community Banking Month, which means it is the ideal month to celebrate community banks and the Main Street communities they serve. Some people may not know why community banks are a thing to celebrate in the first place, so we'd like to give you a glimpse of just how important they are.
Community Banking is Local Support
According to the Independent Community Bankers of America (ICBA), by shopping and banking locally, you and your community reap benefits you might not experience when frequenting big, national chains. They create local jobs, drive local economies and use local money to give back to the community through financial security, education, transportation, and living assistance, among others. Community banks employ 760,000 Americans and create countless jobs due to their role in lending to small businesses and agricultural enterprises.
In Iowa, the focus on agriculture is a huge part of our economy. It makes it that much more important, then, that community banks make 82 percent of agricultural loans!
Community Banking is Personal
Since a community bank has such a large impact on the local environment, it is important to point out that their boards of directors are made up of local residents who want to see their local communities succeed. Also, according to ICBA, average fees for checking accounts and other depository services are lower at community banks than at large, multi-state institutions.
Since your local community bank is staffed by your neighbors and influenced by local businesses and people, their attention is on local needs, not on larger corporations. They are not only banking with you, but involved in community events and philanthropy.
Community Banking is not Old Fashioned
Community banks are competitive in order to give back to their neighborhoods, so they offer varieties of innovative products to their customers. For Lincoln Savings Bank, this means we aren't just a bank. We offer financial assistance in all aspects of life and make it convenient for our customers with innovative features like anytime, anywhere banking.
Community Banking is Passionate
According to ICBA, community bankers are typically deeply involved in local community affairs. They see their customers as people, not numbers, and because of this are often willing to consider character, family history and discretionary spending in making loans. They are staffed by the same kind of people that they serve, which means community banking teams understand you. The foundation of a community bank is the community they serve.
Lincoln Savings Bank is proud to be a community bank and to have a first-name relationship with our incredible customers. Stop by one of our locations this month to say hello or find out how your local branch is celebrating!
Lincoln Savings Bank, Member FDIC