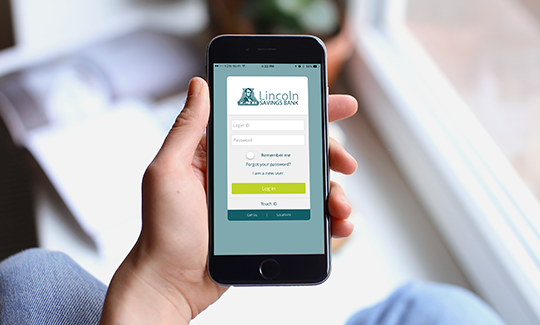 During summer travel or the fall soccer season, as a small business owner or busy parent, whether you're heading off to college for the first time or adjusting to a new job, LSB makes it easy to manage your finances with our digital toolkit. Keep reading to learn how to check balances, transfer funds, and more. Whether you're camping in the woods, shopping for souvenirs, or grabbing a bite to eat, LSB is always a click away!
Access your bank account 24/7 with online and mobile banking
Whether you're a small business owner or an individual looking for more control over your money, it's never been easier to monitor your finances and move money from wherever you happen to be, at any time of day or night. If you're not already enrolled, sign up for online banking from LSB to bank anywhere! It's free and you'll save yourself more than one trip to a physical branch by being able to check your real-time balance, transfer funds between accounts, view statements, and pay bills and loans.
Once you're enrolled in online banking, you can download the myLSB Mobile app for iPhone, iPad, or Android. Access your accounts from the palm of your hand with mobile banking, which allows you to transfer funds, pay bills, deposit checks, and more. Run your business from your smartphone or tablet or simply keep tabs on your balance and transactions while you're out and about.
Budget, track spending, and manage your finances with Ledger
Now that you've set up access to your LSB accounts with online and mobile banking, it's time to get a handle on all your various accounts. How many different financial accounts do you have? It can be hard to keep track of everything, especially if you have credit cards, loans, and checking or savings accounts from different institutions. Get a bird's eye view of your financial situation with Ledger, which enables you to link LSB and external accounts and view them all on your LSB account dashboard.
Once you view all your accounts in one place, you can prioritize different goals such as paying down debt or building savings. Ledger also categorizes your transactions automatically so you can see where your hard-earned dollars actually go. Think of this spending tracking feature as Ledger's superpower. Knowing how much you actually spend on things can be powerful, especially if it contrasts with your beliefs about how you spend money.
With your categorized spending, you can create a more realistic budget that better reflects your priorities. For example, maybe you have more app and other digital subscriptions than you realized. Cancel the ones you don't use and redirect that monthly amount to another category. Whether you're looking to save for a wedding or house down payment, pay off a student loan or credit card balance, or start an emergency fund, Ledger can help you reach your financial goals faster. Simply log in to LSB's online banking to begin using Ledger and take control of your finances!
How to Use Your Digital Banking Toolkit Wisely
Having all of these financial tools is great, but you need to develop the right habits and mindset to get the most out of them. Put these five best practices for budgeting and growing your savings into action:
Track your spending.

Review your spending categories in Ledger and re-categorize transactions as necessary. Being aware of your spending habits and striving to live a financially healthier lifestyle is the first step toward financial independence.
Pay yourself first.

This classic financial advice boils down to growing your savings and automating your cash influx. Dedicate yourself to saving a certain percentage of your income each month and automate it. Put this money into a separate account, don't touch it, and allow it to grow over time. Make this different from your emergency fund, so that you aren't forced to dip into this.
Pay off debt.

While a mortgage may be best paid down over time, smaller loans and credit card balances should be prioritized to be paid off as quickly as possible. For example, the money you pay toward principal and interest now could be better allocated for retirement savings and other needs once that debt is paid off.
Set financial goals.

Whether individually or with your partner, schedule time to list and review all your financial goals. Then, determine the steps you can take to achieve them and start with the smallest first step. It's also helpful to identify short-term goals, like buying new furniture, versus long-term goals like buying a home. This will focus your efforts and give you some small wins to help you keep going.
Avoid impulse spending.

You already know this, but it's worth repeating that if you can avoid spending unnecessarily, you'll have an easier time growing your savings and reaching financial goals. Some people are more prone to impulse buying than others; if it's something you struggle with, mindfulness techniques or a simple mantra like "I am enough" could help you gain awareness of your patterns and resist the impulse.
Experience better banking at LSB!
Since 1902, expertise and experience have made us the bank of choice for thousands of Iowans like you. We celebrate our rich history while continuously bringing you the best in new banking technology. Experience better digital banking solutions at LSB—learn more about online banking, mobile banking, Ledger budget tracking, and Billpay Direct or visit your nearest location in Iowa to open a new account!