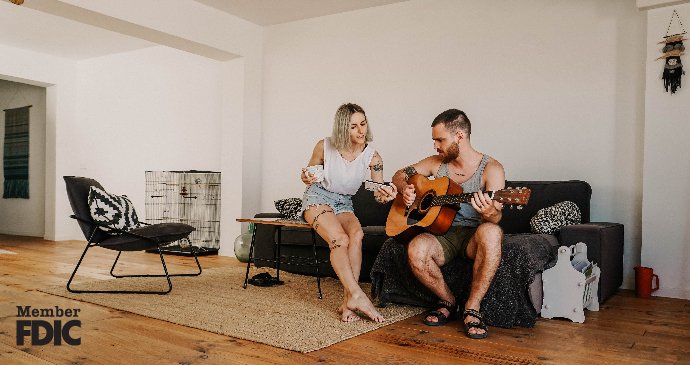 At Lincoln Savings Bank, we recognize that moving is so much more than boxes and bubble wrap. A new home is a new beginning, a clean slate, and a chance to start something fresh. Today, we want to help you kickstart your new home by sharing some of our best tips and tricks for making the most of your move. By ensuring that these expenses are planned for ahead of time, you can keep your attention on what's important, knowing the details are already taken care of.
Boxes, Tapes, & Other Moving Supplies
Gathering boxes for the big move can cost a pretty penny! Remember to take advantage of various retailers in your area who may have unwanted cardboard. Often grocery stores, big box stores, and restaurants find themselves with unwanted boxes that are perfect for moving. By taking your time to pack things right, using bubble wrap and other safeguards, you can ensure more of your valuables stay intact throughout the day of the move. We've made a habit of color-coding boxes with different colors of tape to help movers and family members know which boxes need to go where once the truck has arrived.
PTO or Unpaid Days Away from Work
Sometimes there are some hidden expenses when planning your move, like missing income! If you work as an hourly employee, you may want to find ways to make up for hours before or after the move to ensure your family budget is still on the right track. Otherwise, if you have PTO or need to accrue it, those are great things to plan for as soon as you know when you're looking to move.
Moving Truck & Movers
Help during your big day can be so much more than an extra set of hands. If your budget allows you to include movers, they can offer more than a labor service. By allowing the professionals to load and unload your moving vehicle, you can ensure your focus is on the next steps. Things like determining what needs to get loaded and in what order, how to wrangle the kids to and from the move sites and directing traffic at the new place will keep things organized. Movers may not make the day chaos free – but they can help provide peace of mind and a quicker transition process for you and your family.
Gas + Meals + Travel Expenses
Chances are if you're moving across town, you may not have much in the way of gas, meals, or travel expenses. However, if an exciting opportunity has you moving to a new town or a new state, it could impact your overall budget after including the costs associated with the travel to your new home. By estimating these costs, and saving ahead of time, you can be certain that both you and your family are prepared, making it to your new abode safe, rested, and well fed.
New Groceries & Other Household Needs Upon Arrival
Speaking of well fed, you may need some groceries and other items once you unload the moving vehicle and start to get everyone settled in. Basic pantry items can do the trick for the first day or two, as the kitchen and other rooms in the house begin to come together. Make a very simple meal plan for the week of the move, keeping family meal prep to less than thirty minutes. You'll want to spend as much time getting things organized and set-up before diving into big family fares.
No matter if you're moving in two months or two years, we believe it's important to prepare for the exciting new milestones life can bring. To help elevate your savings, stop into our nearest branch or
apply online
to see what one of our dedicated savings accounts can do for you!
Lincoln Savings Bank. Member FDIC.